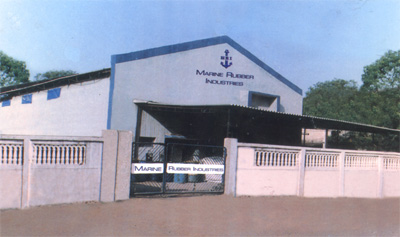 MARINE RUBBER INDUSTRIES [M.R.I] is one of the leading quality rubber manufacturer in India. At MRI 'Marine' brand industrial hoses are produced from the finest quality of natural and synthetic rubber generally meeting all aspects of IS- specifications. Hoses manufactured at MRI find wide spectrum of application covering almost all types of industries like petrochemical, cement, fertilizers, textiles, marine, food processing, pharmaceuticals, oil & gas industry, bulk material handling, construction etc.
At MRI manufacturing of hoses are totally optimized with the fitment of customized end connection under the same roof: the final testing of the complete hose assembly in-house ensures trouble free operation at the application site.
At MRI hoses are designed with fine blend of customers requirements and appropriate selection of raw material for construction to meet international standards of testing.
MRI has the capacity of manufacturing hoses from ½ to 24' inside diameter and maximum length of 20 meter.
To assist our esteemed customers for selecting typical hose best suited for the required application, this catalogue gives the various details in terms of size, working pressure, temperature, test pressure, type of material to suit the service intended for, types of end connection. Etc.
Over and above customers are more than welcome to tell us their application and we at MRI would recommend the most suitable hose for the application and ensure you have a trouble free operation.
So go ahead and select MRI'S MARINE brand hoses and enjoy the trouble free operation with ease.